THE CHILDBLOOM GUITAR PROGRAM OF BOISE
GUITAR LESSONS FOR KIDS - THE CHILDBLOOM DIFFERENCE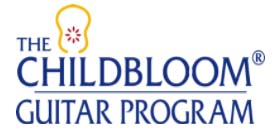 Are you looking for a fun, yet challenging guitar program for your child? The Childbloom Guitar Program teaches life-long fundamental music skills in a positive and low pressure environment.
A child's early experiences with music can help shape his or her approach to future challenges and opportunities. The Childbloom program encourages development of diligent practice habits, listening skills, persistence and team work through ensemble playing.
We take music education seriously. Begun in 1980, the Childbloom Program is one of the longest running guitar programs for children in the world. That is why we know that parents must be involved in their child's musical growth. We want a parent to be present in the lesson with the child. You need to know the details of what the child is learning, the goals for the week, the technical aspects that the child can't see from his or her viewpoint and help encourage practice in an effective way. The quality of that involvement will change as the child matures but parental involvement has been a key ingredient to the success of the students in our program from age 5 -18. This is the the highest cost – YOUR time and attention. It will provide the greatest value to your child.
The Curriculum
The Childbloom Guitar Program is a comprehensive music education program developed in 1980 by Kevin Taylor, of Southwestern University in Georgetown, Texas. It is currently being used by educators around the country and is the largest program of its kind in the United States. Incorporating a well developed, innovative approach in a positive, low-pressure environment, we help build the foundation for a lifetime of confident involvement in music and the arts.
Through a researched and proven method, students are able to play music quickly and successfully. "We want to give the kids a learning victory in the first few lessons," says Taylor. "They don't want to wait to play music. Can you blame them?"
The Childbloom curriculum and group structure allows the student to gain both solo and ensemble skills. The curriculum has been carefully developed, employing an understanding of the science of modern child development. Traditional classical guitar technique is taught, using the fingers of the right hand rather than a pick.
Much of the music is arranged in multiple parts, necessitating that the students learn listening and blending skills, and confident independence. We prepare students to continue in classical education as their skills progress, or use their reading and ensemble skills to branch out confidently to play other styles of music. Public performances are encouraged, though not required.
STUDENTS
MATHEW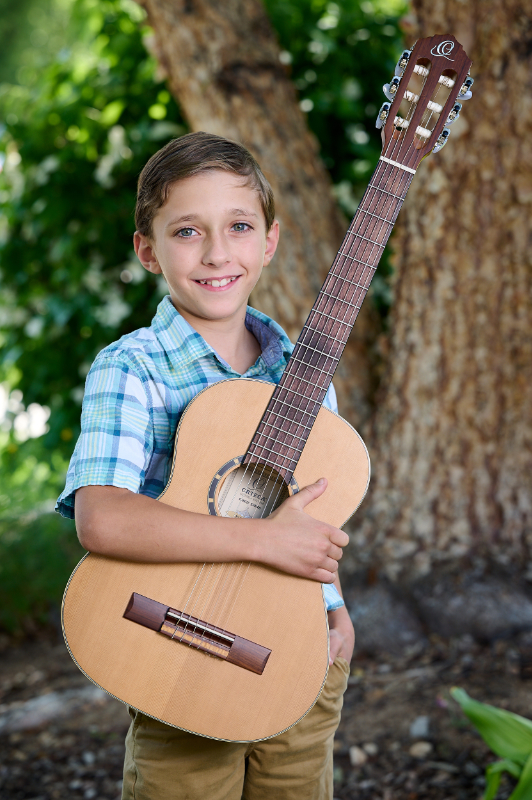 I recently had a conversation with contest winner, Mathew, about his guitar history and his family and found out some interesting things about him. Let me start with congradulating this 10 year old boy for winning the Tomorrow's Bells Contest offered by the Childbloom Guitar Program. He competed with other students nationwide and it was reported by the founder, Kevin Taylor, that this was the most entered contest to date. So, no small feat to win! Congratulations, Mathew!
Here were the highlights of our chat:
Mathew, do you remember why you wanted to play guitar in the beginning?
My older brother played and I want to be like him.
What do you like about guitar?
It's not too hard and when you play nice songs, they sound beautiful.
What is your favorite tune?
I like the Irish Song and Tomorrow's Bells.
You recently won the contest. How did you feel about that?
I was surprised!
Do you think you will enter another contest?
Yes, probably.
I say definitely!
You have a large family, 8 kids all together. Do any of the others play instruments?
Yes, flute, violin, piano, clarinet, guitar and accordion. We play in an orchestra at church.
I love that!
I asked Mathew if there was anything he would like people to know about him and he said he likes to build things. He enjoys Lego and he is in the process of upgrading his nerf gun to an electric nerf gun. Sound interesting. He also constructs dioramas, miniature models of landscapes. And, according to his mother, he is quite a good cook. He finds a recipe on youtube and writes it down, studies it and has his dad take him to the store to shop. Then, he prepares it all himself and apparently, it is very delicious!
Congratulations to Mathew for being a good student and a cool kid!
RYAN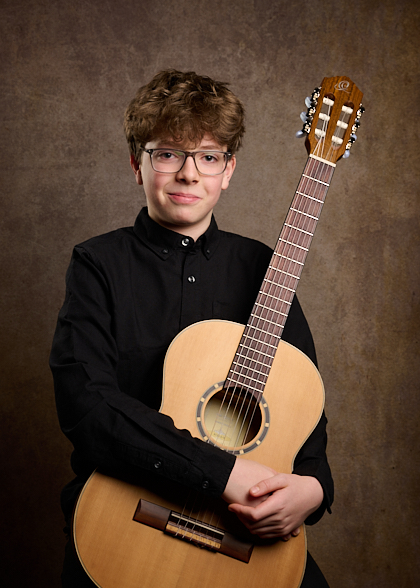 Let me introduce Ryan.
Ryan is 13 and has been taking guitar lessons for about a year and a half and he is getting some attention here because he has won the 2022 Christmas contest. You can view his entry in the Audio/Video section of this website.
Childbloom holds contests periodically. Kevin Taylor will tell them what they need to play and kids from Childbloom programs all around the country send in their entries. Ryan has been the winner of 3 such contests!
Ryan is the youngest of 4 kids and the only musician in his family. He has good family support in his endeavor, which contributes to his success. He is a well rounded young man with other interests which include sports, especially basketball, outdoor activities such as hiking and swimming. He likes video games and getting out for family activities.
Ryan believes that learning an instrument is important, that it adds to the all around learning experience. He got to choose which instrument he wanted to play. He considered drums, but settled on guitar because it stood out to him as a good instrument on which to learn about music. I am very glad he chose guitar!
Ryan stands out as someone who is open to trying new things and he tackles them well. He has the qualities of a leader and isn't afraid to step into that roll when needed.
Childbloom is fortunate to have him! Thank you, Ryan and keep up the good work!
LOGAN and ELLIE
We are graduating 2 more seniors this month, Logan and Ellie. Both of these students started at the same time with instructor, Jake Ineck, and have remained together in the same class the whole time! This is the only time I have ever seen this happen! When Jake left to go pursue his Master's degree, he handed these students off to me. His exact words were, "You are lucky to get this class!" How true! Both have progressed nicely and were invited to play in the esteemed Bella Corda, the advanced ensemble. Both Logan and Ellie are honor students and have balanced very busy schedules. These two have been a delight to me and I will miss their smiling faces every Friday afternoon, though Logan may choose to continue his studies until he leaves for college.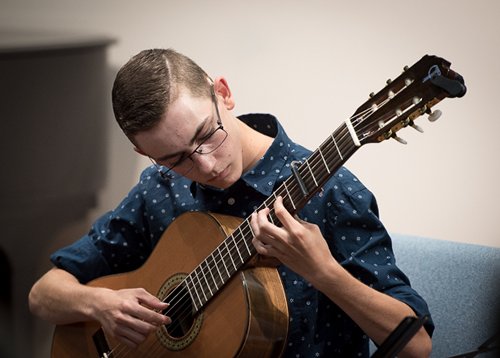 I started playing guitar when I was eight years old, having bought a guitar out of a toy catalog. After getting tired of not being able to play it, I started taking lessons from Jake. I have a lot to attribute to Jake, because not long after, I really wanted to quit, but he helped me and encouraged me to stick with it, which is why I'm here today. I later started taking lessons from Kelli and that's when my progress began to escalate.
I've always been really into music. I played the piano before I started guitar and I also played in the middle school band as a percussionist. What really struck me with guitar, however, was seeing all of the many ways the guitar could be played and the way it stood out as a solo instrument. I also loved the way ensembles sounded, which is why I joined Bella Corda ,and I really enjoyed doing that for a few years.
Aside from guitar I also love doing just about anything outdoors, such as camping and hunting and I've just recently taken up photography. I have been admitted to the University of Utah's honors program and plan to study electrical/computer engineering.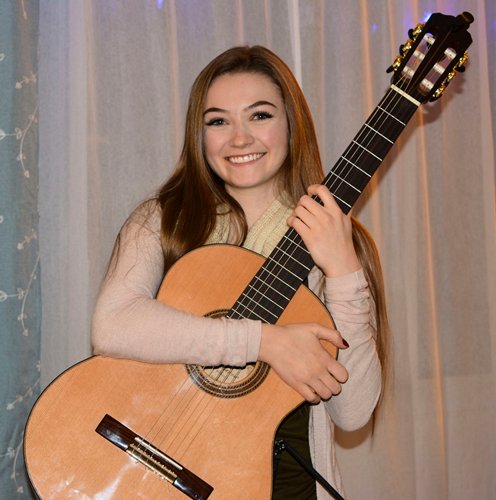 I began lessons with Logan at eight years old, after telling my parents that I wanted to "learn to play classical guitar." How I knew what classical guitar was at that age is still a mystery to us all! Although I can't remember exactly why younger me was so adamant about learning classical guitar, I do know that it was one of the best decisions I've ever made. Both Kelli, my current instructor, and Jake, my past instructor, have been incredibly supportive of me throughout my 10 plus years of learning and growing. I have also been in the Boise Bella Corda advanced guitar ensemble for several years, and I hope to return again as Alumni.
Playing guitar has been a huge part of my life. Even when I won't be able to continue regular lessons, I will be able to take my knowledge and continue to explore my love of music. My passion for music that I gained from lessons will undoubtedly carry throughout my life.
Along with playing guitar, I have stayed involved in Future Farmers of America, 4-H and National Honor Society. I raise horses, goats, beef cattle, and sheep, which I have shown for many years. I also absolutely love public speaking and crafting. I will be attending the University of Idaho this fall to most likely major in Agribusiness. I am very excited to be continuing on to this stage of my life - and don't worry, I'm bringing my guitar, of course! I can't thank Kelli and Jake enough for giving me the most amazing gift I could ever ask for.
ARAMIS and BETHANY
We have 2 seniors who are graduating and moving on. Both will be presenting senior recitals this month.
Aramis is the second of 3 kids in his family to take lessons with me. He has been a delight to work with. After the family moved away, we got special permission from the Childbloom headquarters to continue their lessons on Skype. They were in a remote part of WA with no teachers available. Aramis has done a great job and I am proud of him and will miss him!
Bethany began playing later than most students who enroll in this program. She proved to be an amazing student and progressed very rapidly. She earned a place in the advanced ensemble and was an asset to the group. She has been a joy and a pleasure to teach and she will be missed!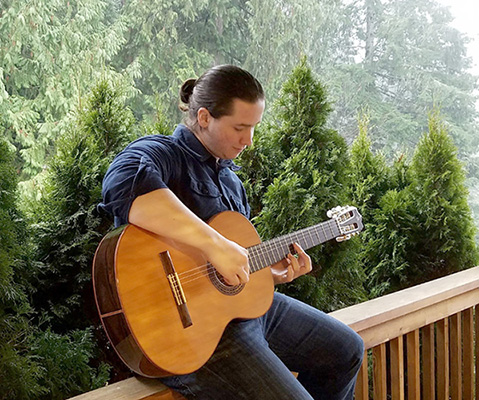 Aramis started playing guitar at age 9. He was inspired by his brother, Atticus, who also played the instrument. In his 8th grade year he entered into the middle school talent show, which led to growth for him as a player and person. The process was hard, there were hand cramps and struggles but the piece he was able to play at the end made it all worth it. Although playing in front of people wasn't new, performing for his peers was. The stress that came from playing for his school helped show Aramis the reward of hard work; in fact, during all the years of playing guitar, non-musical parts of his life grew. For example he gained a great deal of patience and now values the end result of a job well done.
That summer the Zborowskis moved away from Idaho and became residents of Washington. Finding a guitar teacher proved impossible. So, as a solution, they and Mrs. Larson decided it would be good idea to Skype lessons. Because of Mrs. Larson's generosity Aramis continued playing under her guidance. Her further teachings created a well of opportunity in Washington. Aramis and his sister performed together in various guitar events, such as talent shows, Christmas parties and in one case a wedding. On occasion, audience members would even approach them after the performance and invite them play at other events.
After lessons end, Aramis will be attending the University of Idaho. He will major in engineering and one day become a chemical engineer. As a pass time and hobby he will keep playing guitar, striving toward mastery of it.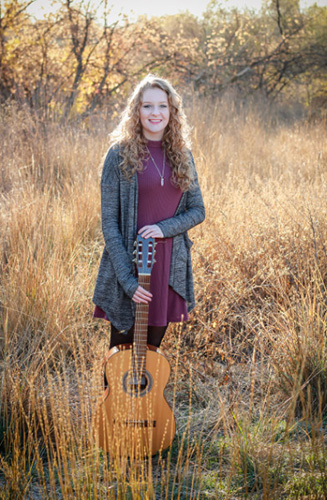 I have always had a passion for music. From an early age, I had listened to my siblings play the piano and eventually taught myself to read music and play simple songs. When I was thirteen I had started taking piano lessons, but I had my mind set on guitar. I started lessons in the Childbloom program when I was fourteen years old after taking piano lessons for a year. With the help of my amazing teacher, Kelli Larson, my love for music has grown greatly. I have been privileged to play in La Bella Corda for the last few years and have been able to meet other great performers through it.
I have always had a love for animals and enjoy playing with (and attempting to train) my two dogs Baxter and Atticus. I am also learning to do photography and have been really enjoying doing so. I love to go hiking with my family and spending time with my friends.
I am currently attending College of Western Idaho and plan to receive my associates degree then transfer to Boise State University. I am currently studying criminal justice and after I graduate I hope to work in the canine unit with the Boise Police Department.
CHARLES I.
One of the very nice things about the Childbloom Program is that there are frequently contests that the kids can participate in. Kevin Taylor, the founder of the program, tells them what they need to play. The kids work hard and record their piece and then send it off to him. He judges and declares the winners, who receive a letter from him and a check for their prize! How fantastic is that? The contests are open to all the Childbloom students in the U.S.
Charles won the recent, First Year Contest and I am very proud of him. He played a short melody, La Folia, two times in a row. Mr Taylor's comment was that his "tempo, rhythm and technique were fantastic!" Quite a compliment from the founder!
Here is my short interview with Charles:
Tell us why you chose guitar.
I have played piano since second grade, but I have wanted to play guitar since I was a little kid (Charles is now 12). I worked hard and progressed and showed my parents that I could handle 2 instruments.
Two instruments is quite a discipline! What do you like best about guitar?
I love the sound and the feel of it under my fingers. I love the music that can be played. Strumming chords is very important, but I like the classical: The tunes are crisper.
What are your hopes for guitar?
I want to become proficient and to be a teacher of kids in the future.
What are some of your other interests?
I crochet. I make many things, but the thing I am dedicated to is Amigurmi ( making little animals). I also love creative writing. Mostly, I do stories about talking animals, or fantasy.
What would you like others to know about you?
I enjoy all things artistic. I think if I could go to art school for college, that what I would do!
Congratulations to Charles! I believe he can do anything he wants!
CODY L.
I would like to take this opportunity to give accolades to Cody L. for his accomplishments. Cody recently completed the Level Promotion process. This program was developed as an adjudication process, whereby each student is evaluated with regard to technique, ability and general knowledge before moving to the next level of curriculum. There is a total of 4 tests.
Because of Cody's progress and his diligence, he was invited to play as a junior member of La Bella Corda, the advanced ensemble. He participated in the performances in December and will be playing again with the group this spring.
Here is a short interview with Cody:
"You have come a long way, Cody! How do you feel about your accomplishments?"
"Well, my mind can be put to ease because I finally accomplished what I set out to do: complete all the level promotions. My goal was to finish so I could earn a trophy. But, don't worry, I'm not going to quit!"
"I am glad to hear that! Do you remember why you wanted to play guitar in the first place?"
"My brother played an instrument and I wanted to learn one, too."
"Was there ever a time when you wanted to quit?"
"Actually, there was. Practice was just another thing I had to do before I could have fun. It was a chore."
"I'm glad you hung in there! Does playing guitar serve a purpose for you?"
"It's just fun! Learning new solos is the most fun thing about guitar."
"What do you like best about guitar?"
"Well, I have a really fun teacher! Also, music is like learning a whole new language."
"Do you have any advice for anyone who may read this?"
"Persevere through it, even if you want to quit. It's worth it in the end. Learning to play an instrument is a skill to be valued and not taken for granted."
"A sincere thanks and congrats are extended to you, Cody. You are a great student!"
STUDIO POLICIES AND PRICING
POLICIES
Tuition is computed on a 42 week yearly schedule. Some months will have 3 lessons, some will have 4 and some may have 5. A monthly calendar showing the schedule of classes will be provided.
Tuition is due on the first lesson of the month.
Students must pay the full monthly tuition regardless of any classes they miss. If the student misses a class due to a conflict, the tuition will not be prorated. In the event of an emergency or illness we will try to schedule a makeup lesson.
A 2 week notice is required if you're going to withdraw from the program.
PRICING
There is a $30 enrollment fee per family into the Boise Childbloom Program. When you enroll, you will receive all the materials for Level 1. We provide easy-to-read music for the non-musician parent to help at home. In addition, you will receive an invitation to the "Practice Club," where your student can log in and hear the music being played. The site is set up to make practicing with the recordings possible. This material provides a key ingredient to the Childbloom success – listening to the music before, during and after learning it. You also receive a subscription to The Childbloom Monthly Newsletter. This helps parents deal with the many ups and downs of motivation that will occur in the musical education process. The newsletter also has local events and contests your child can participate in. Contests are geared to every skill level.
Tuition is $76/month for a small group setting (2 to 4 students). A private setting is $100/month. Siblings take at 1/2 price, making it one of the most affordable music education programs in the area. We are also the best!